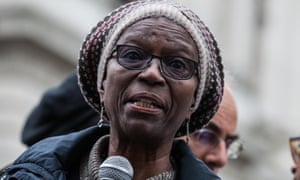 PC Simon Smith, PC Michael Aldridge, PC Stephen Boyle, DC Laura Curran, PC Ian Simpson and PC James Smith had denied a number of allegations of misconduct and gross misconduct over the death of Olaseni Lewis on 3 September 2010.
An inquest this year found that "excessive force, pain compliance techniques and multiple mechanical restraints" used by police on Lewis "were disproportionate and unreasonable" and were likely to have led to his death from a hypoxic brain injury and cardiorespiratory arrest.  
Assistant chief constable Tony Blaker, who chaired the disciplinary hearing at the Metropolitan police's Empress State Building in west London said any failings by officers "were matters of performance which would fall to be dealt with by a different statutory procedure, outside the remit of this panel."
The decision to hold the misconduct hearing without press or public in attendance has been sharply criticised by the parents of the victim.
Lewis, who was 23, died three days after he was subjected to two periods of restraint by police lasting more than 30 minutes. He had no history of violence or mental illness and had been taken to the hospital by his parents after an episode of mental ill-health that began over the August bank holiday weekend.
Although Lewis attended Bethlem Royal hospital for an overnight stay as a voluntary patient, when he tried to leave, at about 9.30pm on 31 August, a doctor called police to ask for their assistance in detaining him under the Mental Health Act.
The struggle with police attempting to lock him in a seclusion room caused the injuries that led to his death. "Mr Lewis's behaviour changed when he was brought to the doors of the seclusion room," said Blaker. "It is apparent that Mr Lewis was determined not to be locked in the room."
Blaker said there was nothing the panel had heard or read to indicate that officers had used force in any way contrary to their training. He said the panel accepted the evidence of officers who said they thought Lewis was feigning unconsciousness during the restraint in an effort to escape the seclusion room that hospital staff had asked them to place him in.
Despite accepting that to onlookers "the restraint of Mr Lewis may have looked chaotic and confused", Blaker said there was nothing to show a failure of leadership by the officers in charge, adding that in such a situation "officers can and do fulfil roles without them being assigned to them".
Lewis's parents, Conrad and Ajibola Lewis, watched as Blaker read out the allegations against the six officers and announced each as "not proved". Outside, their solicitor, Raju Bhatt, read a statement on their behalf calling for a meeting with Cressida Dick, the Met commissioner, to ensure lessons are learned from the tragedy.
"We had taken Seni to hospital because we thought it was the best place for him when he became ill," the statement said. "But instead of receiving the help and care he needed, he met with incompetence, hostility and worse: from the management and staff at the hospital, who were so poorly trained that they felt it necessary to call the police to deal with him when he was agitated; and even more so from the police officers who answered that call. […]
"They held him down … in a prolonged restraint which they knew to be dangerous, until he went limp. And even then, instead of treating him as a medical emergency, they simply walked away, leaving Seni on the floor of a locked room, all but dead. That is how we lost our son."
Deborah Coles, the director of Inquest, said: "Seni was brutalised, neglected and failed and yet no one person at an individual or senior management level has been held to account.
"After a seven-year wait, this is a bitter outcome for Seni's family. We are a lesser society for a system that fails to hold to account police action leading to these preventable deaths from our community."
Deputy Assistant Commissioner Richard Martin, in charge of the professionalism portfolio at the Met, said the force was sorry for the loss felt by Lewis's family and friends.
He said: "The outcome of the coroner's inquest raised a number of important issues for the MPS, and policing nationally, to consider in relation to restraint techniques and training. I would reassure Mr Lewis's family that over the seven years that have passed since Mr Lewis died, the way in which the Met would respond to someone in mental health crisis in a medical institute has fundamentally changed."
SaveSave